From 08 – 09 September 2020, the committee of "Livelihood for Community" project along with representatives from the Ministry of Industry and Trade, the Ministry of Agriculture & Rural Development, and Association of Vietnam Retailers came to visit and evaluate the 3-year result of the program at Van Ho District, Son La province.
It could be seen that the production methods of 39 participating ethnic minority households (Muong, Thai, H'Mong) has positively changed. Since joining the project, the farmers have been able to adapt to market needs and form connections to collectives and businesses, ensuring the packaged products with "Van Ho's safe vegetables" labels out front that follow VietGAP quality standards.
Mr. Vang A Sa, 35-year-old chairman of Vang A Sa Cooperative and leader of the Van Ho project, said that the family's economy for the past years has been drastically struggling due to small cropping land, low yield and poor quality crops, limited knowledge and lack of necessary farming skills. At the time, there were no connections between farmers, collectives and businesses; no established value chain as well as standardized products with proper packaging. As a consequence, the products failed to access the market and were usually undersold to traders. That was until Jun 2018 when the "Livelihood for Community" project launched at Van Ho, opening new opportunities for the local farmers.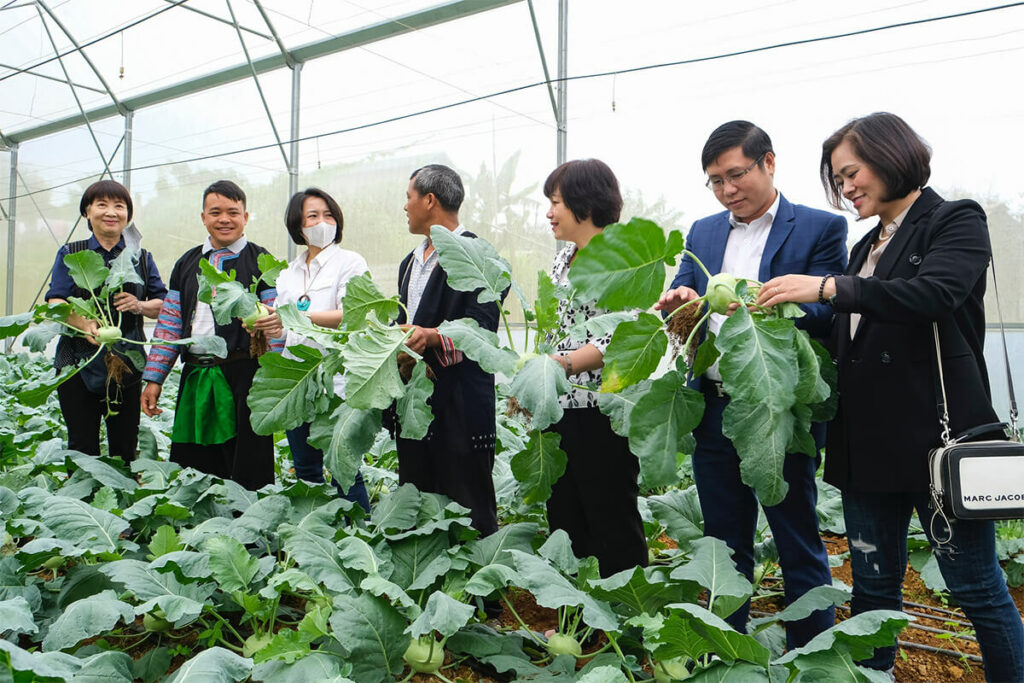 Since joining the project, Vang A Sa has been instructed and consulted by the Central Retail's employees and the scientific staff from ACIAR (Australia) regarding product training, market knowledge, production orientation, especially the essential knowledge of a variety of plants, especially off-season trees with high yield, good price, and capability to grow under the climate of Van Ho district.
After 3 years of implementing the "Livelihood for Community" project in Van Ho, up to now, about 70% of the agricultural products of all kinds (about 250 tons) from Vang A Sa Cooperative are consumed through GO! / Big C, bringing an average revenue of about 300 million VND per month. The incomes of Vang A Sa and 39 other participating households were doubled to 50-60 million VND per hectare, enabling them to change their lives.
Reflecting on the project, a representative of Central Retail in Vietnam said: "The "Livelihood for Community" project in Van Ho has helped to improve the lives of nearly 40 participating households of ethnic minorities, as their income has doubled after applying to produce year-round vegetables instead of just 6 months. The success of the Van Ho project proves that farmers can maintain the selling price when adapting to the market needs, thus opening new sources of income and bringing in positive changes for farmers at difficult or remote areas
References
"Livelihood for Community" is one of the initiatives to realize the Vision of Central Retail in Vietnam: to contribute to Vietnam's prosperity and enhance the quality of life of the people. Until now, the "Livelihood for Community" program has successfully launched 7 projects in Son Ha (Quang Ngai), Van Ho (Son La), Binh Dinh (Binh Dinh), A Luoi (Thua Thien-Hue), Sa Pa, Muong Khuong (Lao Cai), Bac Kan (Bac Kan); supporting to consume 400 tons of produce, enhancing the quality of life of over 500 households, most of whom are of ethnic minorities at remote areas.