Mr. Olivier Langlet, Chief Executive Officer of Central Retail Vietnam announced, "In 2012, Central Retail started investing in Vietnam as the company saw strong potential and business opportunities in the market. With Vietnam as one of Central Retail's key strategic markets, the company has achieved leaping growth with sales reaching THB 38,592 million in under 10 years, accounting for 22% of Central Retail's total sales today."
With strong commitment to business expansion throughout the past 10 years, Central Retail has become the #1 retailer of hypermarkets and the leader in lifestyle malls in Vietnam, with a presence of malls and shops covering 40 provinces nationwide, or 85% of the nation's GDP, and a strong customer base of over 12 million people. Central Retail Vietnam has also built a winning omnichannel platform in food, modelled after the success achieved in the Thai market, with omnichannel sales accounting for over 8% of Central Retail Vietnam's total sales today. Additionally, the company has also introduced a successful brand from Thailand, Tops market, to serve the diversified needs of customers in Vietnam. Through this strategy, it allowed the company to build a strong foundation in food categories, enabling Central Retail to capture a market share of 62% in Vietnam's Hypermarket. Expansion plan for the non-food and property category has also been a key focus, making Central Retail the #1 foreign retailer in Vietnam.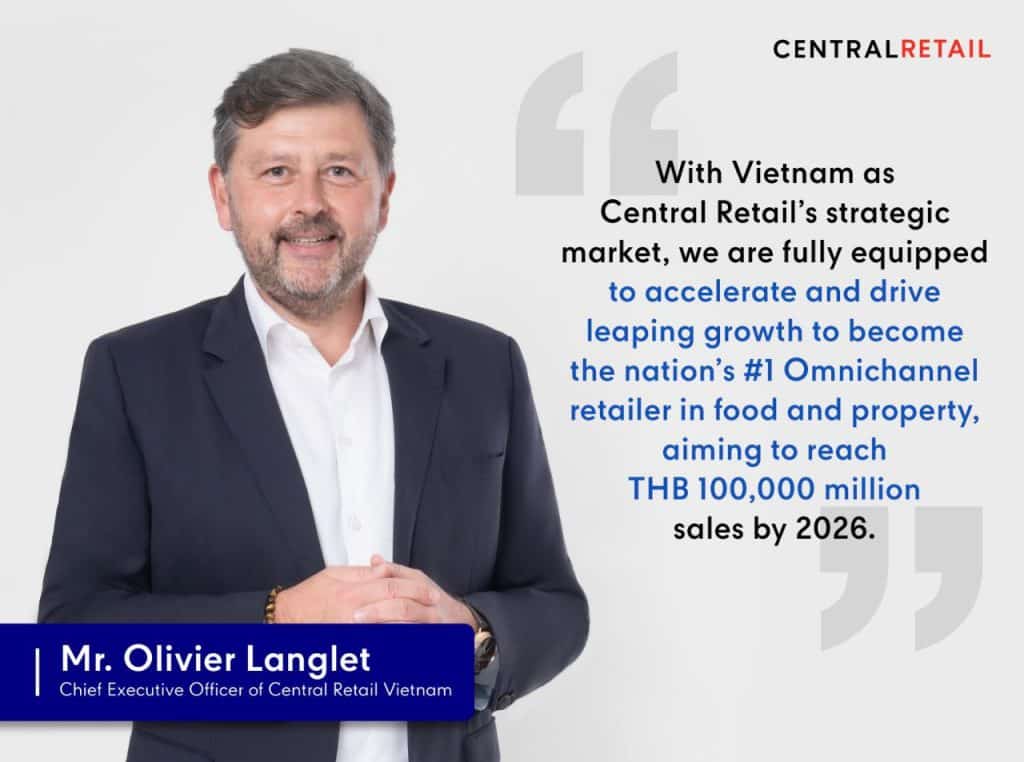 Central Retail Vietnam moves forward with 3 strategies to achieve 4 goals in the next 5 years
By 2026, Central Retail Vietnam plans to invest over THB 30,000 million to achieve 4 goals, which include:
To become the #1 Omnichannel platform in food and property in Vietnam
To drive sales to THB 100,000 million
To double omnichannel sales penetration to 15%
To expand presence across 55 of 63 provinces in Vietnam
Central Retail spearheads 3 key strategies in line with the CRC Retailligence strategy to achieve its growth targets, which include:
Expand and strengthen core businesses nationwide, including the expansion of stores in the food category, enhancement of GO! malls, the launch of private label products that cater to value-conscious consumers and the development of mixed-use projects to strengthen the property business
Become the retailer of the future by building on the company's strong omnichannel platforms to deliver next-level, seamless shopping experiences to consumers and reach growth target to double omnichannel sales penetration to 15%
Accelerate new growth engines and capture new opportunities to expand the business and customer base, serving lifestyles of consumers across Vietnam. The company aims to capture M&A opportunities to accelerate business expansion, setting sights on Vietnam as a key strategic location for sourcing raw materials and products for Central Retail in Thailand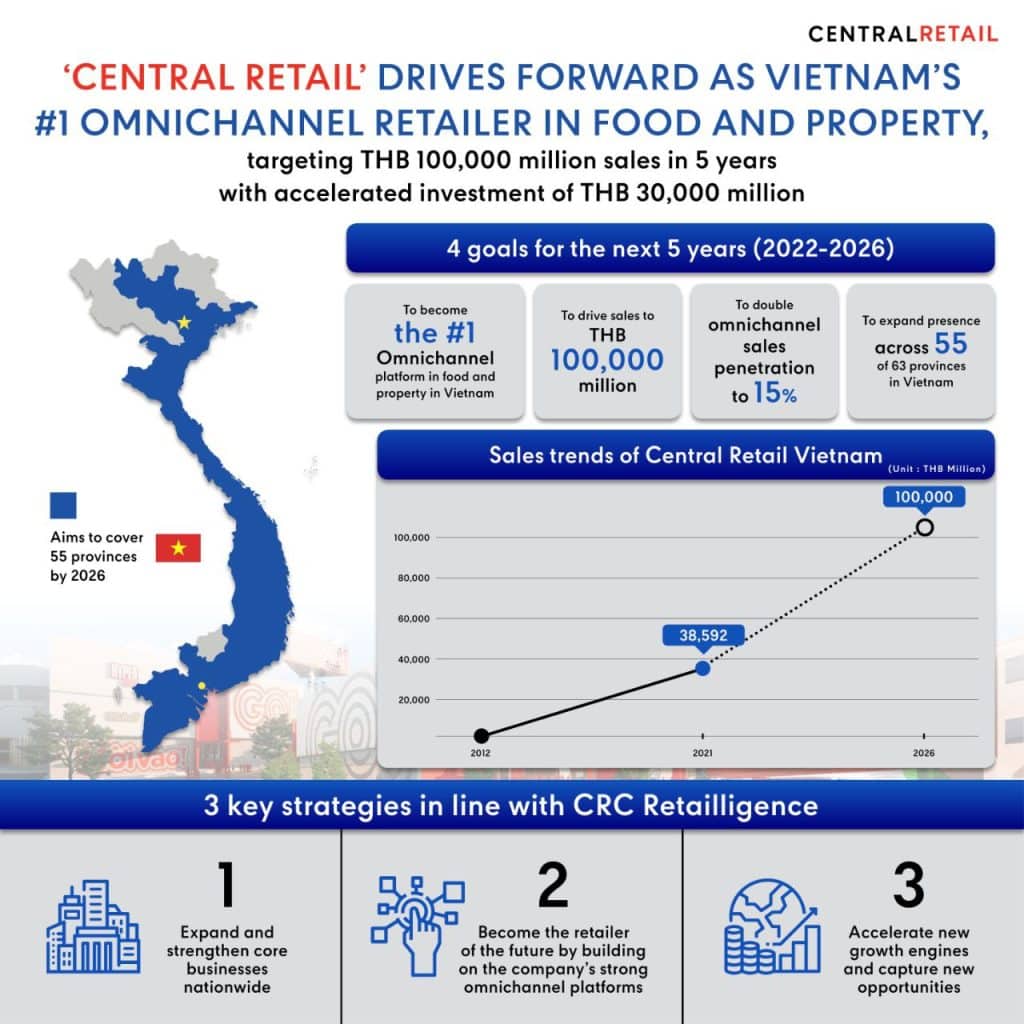 "Over the past decade since the inception of Central Retail Vietnam, we have achieved leaping growth from a position of strength, which is a result of the company's vision to grow sustainably and elevate quality of life in every market we operate in. Under this vision, Central Retail Vietnam has contributed to the development of communities, society, and the economy by employing Vietnamese people and supporting local farmers. We have also strengthened the relationship and collaboration between Thailand and Vietnam by connecting the governments of both nations across diverse projects, including the Thai Festival at Tops market Vietnam, the Taste of Vietnam event in Thailand and business matching events to connect SMEs with potential partners. The company has also fostered the growth of import-export businesses between the nations to expand distribution networks. These efforts are in line with Central Retail's vision to conduct business with sustainability across aspects, which is the guiding principle across operations in every market we're in," concluded Mr. Olivier.