On November 25th, 2021 in Hanoi, Vietnam Report Joint Stock Company (Vietnam Report) held a ceremony to announce the Top 10 most reputable companies in the Food – Beverage – Retail industry in 2021. For the first time, Central Retail was honored to be ranked first in the Top 10 Most Reputable Retail Companies in 2021.
The Top 10 Most Reputable Retail Companies were selected in a logical and objective approach based on 3 main criteria: (1) financial capacity reflected from the latest financial report; (2) media reputation evaluated by the Media Coding method; (3) survey concerning consumers and stakeholders that was conducted in August and September 2021.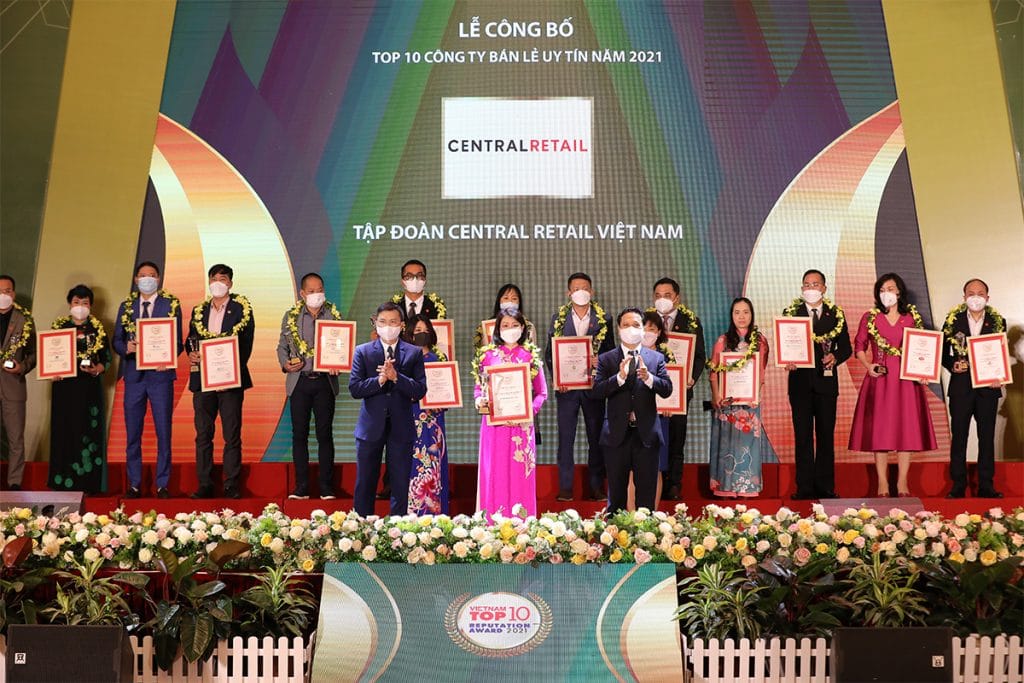 Mr. Olivier Langlet, Group CEO, Central Retail in Vietnam said: "We are very honored to be crowned #1 Top 10 most reputable companies in retail industry of 2021 by a credited agency like Vietnam Report.
We couldn't get this achievement without the dedication and tireless efforts from our employees who have been working very hard despite numerous challenges and impacts of the Covid-19 pandemic.
In addition to that, Central Retail puts high confidence in the investment and business environment of Vietnam where we have been able to develop our business expansion this year with the new opening of GO! Thai Nguyen, GO! Ba Ria – Vung Tau, and soon GO! Thai Binh.
Last but not least, we would like to thank our consumers who have been always supporting us. Central Retail aims at being in the center of peoples' lives, connecting and meeting their demands as well as enriching their experiences through products and services with breakthrough innovations, thereby contributing to Vietnam's prosperity and enhancing the quality of life of the people."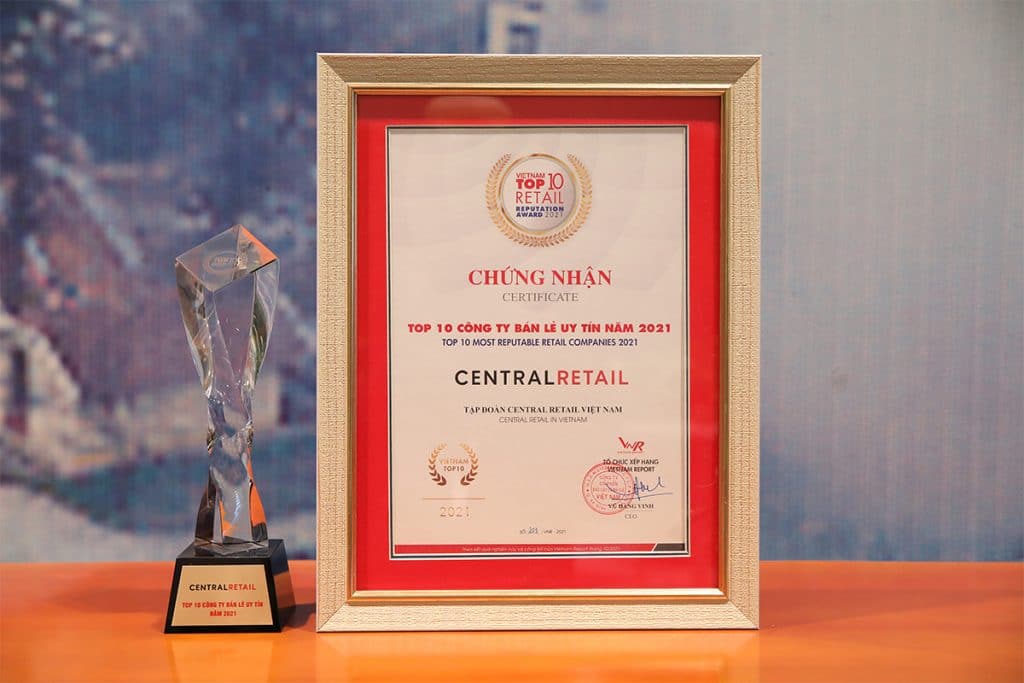 The retail industry have achieved the positive growth in the first months of 2021 despite the pandemic impact. Since the beginning of the 4th Covid-19 wave, many key localities have implemented strict social distancing measures and isolation, greatly limiting services at stores and slowing the growth rate of the retail industry compared with the previous year. According to the General Statistics Office, retail sales of goods in the first 9 months of 2021 were estimated at VND 2,779.7 trillion, decreased by 3.4% over the same period last year. Retail sales in August alone fell 8% month-on-month and 25.3% year-on-year, but saw a slight increase of nearly 4.5% in September as social distancing measures were eased. However, retail still retains its important role in the distribution of goods and the connection between production and consumption.
Throughout its nine-year operation in Vietnam, Central Retail has become one of the largest multi-format foreign retailers in Vietnam with over 290 stores & 38 malls across 39 out of 63 provinces and cities with more than 1,000,000 total square meter of retail space, provides employment and career opportunities for nearly 15,000 employees in Vietnam. The company's 3 key growth drivers including Food, Home & Entertainment and Property provide customers with a diverse portfolio of retail brands, including GO! Mall, GO! Hypermarket, Tops Market, Big C, go!, Lan Chi Mart, Nguyen Kim, Supersports, LookKool, Kubo, BIPBIP, and Robins.