In response to the government call to support Ho Chi Minh city fighting against the current surge of Covid-19, Central Retail in Vietnam has donated 1,500 beds to the field hospitals (folding beds using in military). These beds will be used for Covid-19 in-patients isolated in the field hospitals. In which:
– 1,000 beds were handed over to the field hospital 08 – An Khanh Ward, Thu Duc City, Ho Chi Minh City
– 500 beds were handed over to the field hospital 07 – Anh Khanh Ward Thu Duc City, Ho Chi Minh City
The donation is worth more than VND 750 million in total and the setup was completed in 16th July.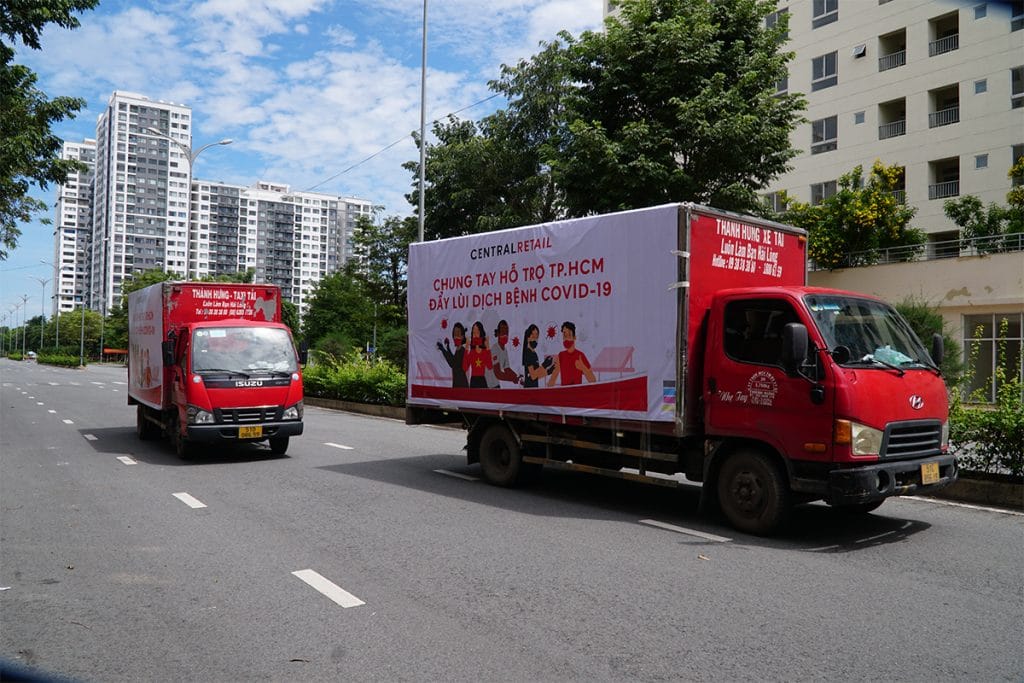 Ms. Nguyen Thi Hong, Head of CSR Central Retail in Vietnam expressed: "The 4th wave of Covid-19 drastically spread in Ho Chi Minh and put pressure on the local government and medical workers who are taking care of thousands Covid-19 in-patients. To join hands with the nation in coping with the critical situation, Central Retail in Vietnam has made donation of 1,500 field hospital beds to support the city's prompt action in the effort of safe isolation and treatment of confirmed COVID-19 cases at the newly established field hospitals in Ho Chi Minh City."
Early in June, Central Retail in Vietnam pledges VND 10 billion to respond to the government's calling for funding vaccination programme against covid-19.
Since the very first day of Covid-19 outbreak in Vietnam, Central Retail in Vietnam has been actively joining hands with Vietnamese government and people in the battle against Covid-19, including donating 4 negative pressure rooms worth VND 2 billion to support medical system for Covid-19 patient's treatment in Hanoi and Ho Chi Minh city (March 2020); donating essential medical supplies for frontline healthcare workers; providing necessities, fruits and vegetables to the provinces that have been heavily impacted during Covid-19 pandemic. In addition, to achieve dual goals set out by the government which is fighting against Covid-19 while contributing to the social-eco development of Vietnam, Central Retail has been implementing many initiatives to support farmers in Bac Giang, Hai Duong by promoting and boosting consumption of agricultural products during the provincial social isolation.
Central Retail in Vietnam has been practicing strict Covid-19 preventive measures in its retail network, including mandatory facial maks, restricted seating, increased cleaning and disinfection routines, temperature measuring, face shields for staff at counters, all in compliance with the MOH's guidance to control the spread of COVID-19.
About Central Retail in Vietnam:
Central Retail in Vietnam was established in 2012. After nine years, we have become one of the largest multi-format foreign retailers in Vietnam with 290+ stores, 38 malls across the country with more than 1,000,000 total square meter of retail space across 39 out of 63 provinces and cities, provides thousands employment and career opportunities nationwide. Our three key growth drivers including Food, Non-Food and Property provide customers with a diverse portfolio of retail brands, including GO! Mall, GO! Hypermarket, Tops Market, Big C, go!, Lan Chi Mart, Nguyen Kim, Supersports, LookKool, Kubo, Hello Beauty, and Robins.