On 17 May 2020, to join hands with Vietnamese government and people in the battle against Covid-19, Central Retail in Vietnam has made a donation of necessities worth of 150 million VND & 5 tons of fruits and vegetables to quickly support frontline health workers at Bac Giang and Vinh Phuc, the two Provinces that have been heavily impacted during the 4th wave of Covid-19 since 27 April 2021.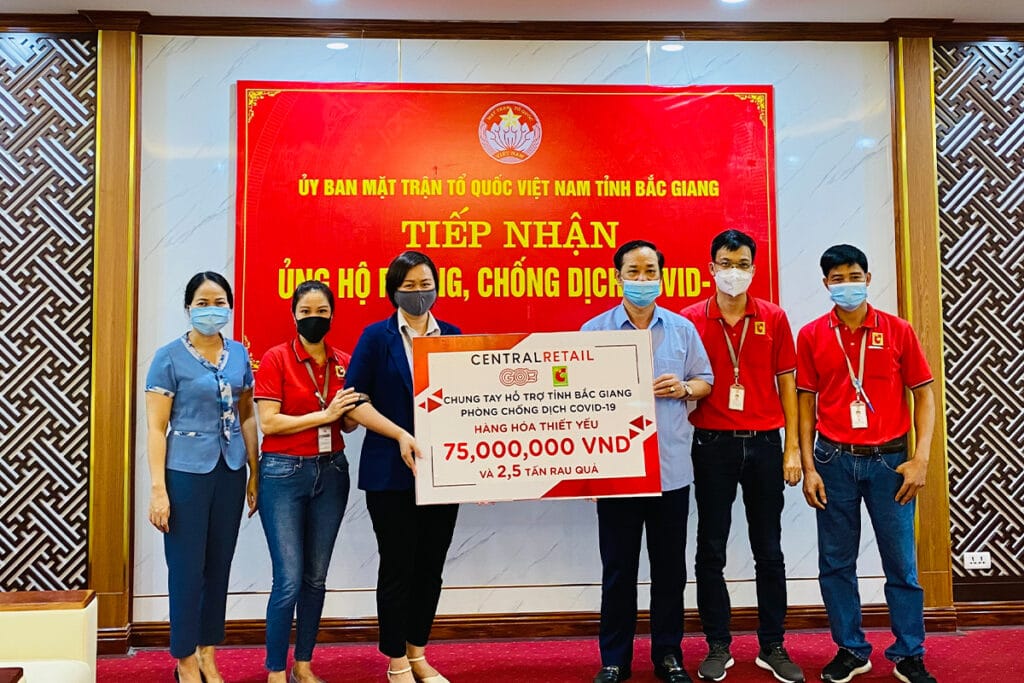 The donation of 20,000 masks, 200 bottles of hand sanitizer, 13,000 boxes of milk, 2,400 boxes of biscuits and 5 tons of fruit and vegetables was handed over to and highly appreciated by the Vietnam Fatherland Front Committee at Bac Giang and Vinh Phuc.
A representative of Central Retail in Vietnam said: "The 4th wave of Covid-19 has heavily impacted Bac Giang and Vinh Phuc along with many other cities & provinces. Bac Giang authorities even applied social distancing policy at some areas, and they are in need of social contribution to quickly overcome the struggle. To realize the company's Vision of "contributing to Vietnam's prosperity and enhancing the quality of life of the people", Central Retail hopes to share our donation of necessities & foods to help Bac Giang and Vinh Phuc in the fight against Covid-19."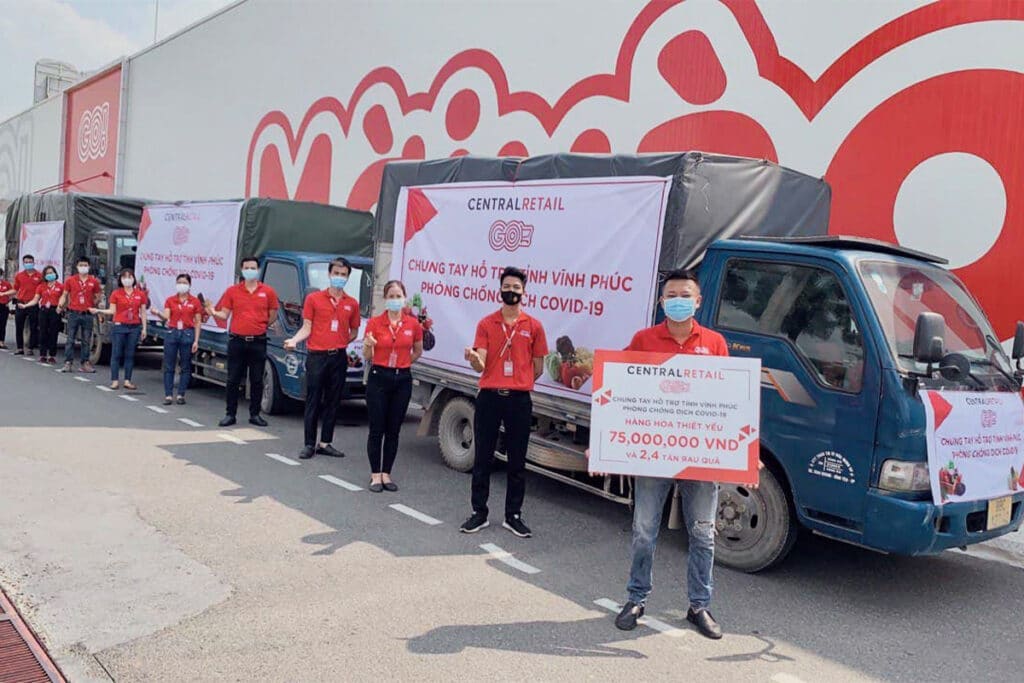 Since the beginning of the 4th wave, GO!/Big C Hypermarkets nationwide have been actively increasing the stockpile of essential goods to ensure adequate supply of food to the people while reactivating preventive measures for all staff and customers. Besides, preventive goods such as hand sanitizer, masks, etc. are always available to meet all customer needs.
GO!/Big C Hypermarket continues to run promotions & discounts programs for thousands of items, ensuring the access of high quality products with the best price. In addition, customers can choose to order on many platforms such as zalo, call center, GO! Application, etc. with no delivery fee for bills over 200,000 VND within a radius of 10 km.
To ensure the prevention and control of the Covid-19 pandemic, GO!/Big C Hypermarket measures body temperature for 100% of customers who come to shop. All staff comply with wearing masks and other safety measures when interacting with customers. The stores also regularly broadcast reminders and advise customers to wear masks and keep the safe distance when shopping.
REFERENCE
In January 2021, Central Retail donated necessities worth 100 million VND to Cam Giang District (Hai Duong Province) to support the province against the 2nd wave of Covid-19.
On 20 August 2020, Central Retail donated 20,000 medical masks, 500 bottles of hand sanitizer and 5 tons of food to Hai Duong General Hospital to support the frontline medical workers and citizens during the social distancing situation.
On 03 August 2020, Central Retail in cooperation with Vietnam Fatherland Front Committee donated 20,000 medical masks & 300 bottles of hand sanitizers to Da Nang hospitals
On 06 August 2020, Central Retail also donated 10 tons of fruits & vegetables to help Da Nang in the Covid-19 fight.